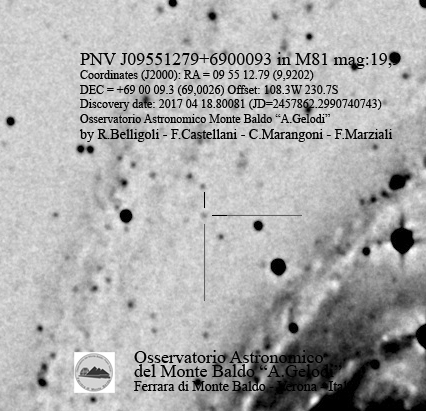 La scorsa notte abbiamo segnalato una nuova scoperta sul TOCP (
Transient Objects Confirmation Page).Una nova nella galassia M81 (
PNV J09551279+6900093)
in collaborazione con il gruppo dell'astronomo Hornoch. è stata subito confermata con una spettro dal gruppo di ricerca del celebre astronomo. Ecco di seguito il testo
"
F.Castellani, Verona, Italy reports the discovery of an PNV by K. Hornoch (Ondrejov), H. Kucakova (Charles University), M. Henze (CSIC-IEEC), G. Sala, J. Jose, J. Figueira, P. Sin (UPC-IEEC), M. Hernanz (CSIC-IEEC), S. C.

Williams (Lancaster), H. Meusinger, M.J. Darnley (LJMU), A. Kaur, D. H. Hartmann (Clemson), A. W. Shafter (SDSU) R.Belligoli, F.Castellani, C.Marangoni,F.Marziali (OMB-CAV). The image in twenty-five frames 300-s obtained on 2017 April 18.80081 UT with a Moravian G4-9000 KAF CCD unfiltered (limiting magnitude = 18.5), from Monte Baldo Observatory (Ferrara di Monte Baldo, Verona, Italy), with 0.4m f.8 Ritchey-Chrétien telescope. The object is present in a couple of images taken at: 2017-04-18T19:10:40 of 3900sec and at 2017-04-18T20:21:40 of 4200sec. No stellar source is visible at the position of the transient in our past images including reference image dated 2017-03-30.797 and 2017-04-09.814. The discovery's image is available at: https://www.flickr.com/photos/27458003@N05/33752171320/in/dateposted-public/
"
La conferma ufficiale è arrivata puntualmente oggi con una
ATel #10290
da parte the Astronomical Institute of ASCR and the Astronomical Institute of the Charles University of Prague, Czech Republic.
La rivista Coelum di maggio ha riportato la notizia della scoperta: leggi l'articolo sulla Rassegna Stampa